I'm not convinced that February is the most passionate month, despite what all of those promoters of Valentine's Day try to tell us. Over here, I like to celebrate romance, passion, and especially self-love throughout the year. Maybe that's because when I think of passion, it isn't just tied to the concept of romance. Despite all the hearts and chocolates, February usually marks the time when I start to feel like I need a little something more. More sunshine, more excitement, more fresh air, more reasons to move my body. Though I do have a little Valentine's Day treat in store for you, I thought there was no time better than today to start talking about real, practical ways to explore your passion. If you've been thinking about shifting some of your focus to a new, exciting outlet or adventure today's post will help get that oh-so-important ball rolling. Here are ten steps to start your own Passion Project, a checklist of sorts to help you explore deeper creativity and meaning in your life.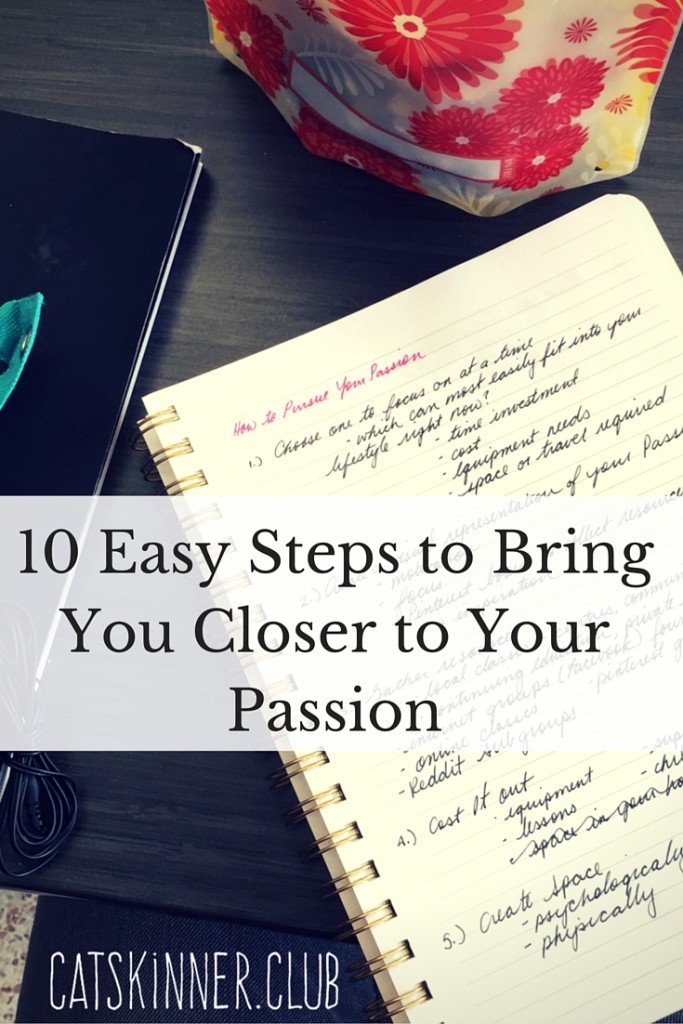 1. Choose One Passion Project to Focus On At A Time
There are literally dozens of things I'd like to throw more passion at, including brand new things (like learning to play the piano) that I want to take on from scratch. When I stop and think about all of those things, it starts to feel too overwhelming to get started. Instead, focus on which of those passions can fit most easily into your lifestyle right now. What could you actually have time for? What does your budget allow space for? Consider the following as you try to narrow it down, and let's use my piano example:
– time investment (time for both lessons and practice)
– cost (cost for lessons, books/music, a piano or keyboard)
– equipment needs (a piano, headphones to keep my practicing from disturbing anyone else, music books, music notebooks)
– space or travel required (a place for the piano to live, possible travel to class)
2. Create a Visual Representation of Your Passion Project
Here's a thing I consistently do: I get really excited about something coming out of the gate, but as time passes, and life throws up interruptions to my momentum (something that's totally inevitable) I get distracted, and my motivation and focus wane, big time. I need a visual reminder of why I need to keep my efforts and attention on this thing I was excited about in the first place. There are a few ways to approach this, and it's important that you choose the approach that works best for you.
– a Pinterest inspiration board (you can create a secret board so it's private)
– a cork board with clippings of images and quotes near your workspace, or a central location in your home
– a collage
– a simple image that reminds you of this passion, in a place where you will see it often
3. Gather Resources
Is this a new Passion Project? If so, you'll need some resources to help support your exploration. Even with time-tested passions, things like a move, or life-altering change (health issues, new babies, marriage, a death in the family) can create the need to reach out and find a new network of support to keep that passion active in your life. Consider where you might find the following:
– local classes, learning centers, communities of like-minded people, collectives
– continuing education, private lessons
– online groups (Facebook, Pinterest), forums, message boards
– online classes
– Reddit (watch this video about what Reddit is, and how it works, and I dare you to not lose your whole day to the site.)
4. Cost It Out
Sometimes, the best things in life aren't free, but if you're clever, they can come cheap. Create a budget for yourself so you have a clear understanding of all the costs associated with exploring this Passion Project. Here are a few things to take into account:
– equipment
– lessons
– supplies
– childcare (you may need a babysitter while you're in class, or devoting time to exploring this passion)
– creating a space in your home (depending on the nature of your passion, you may need/want to devote some physical space in your home just for that)
5. Create Space
I'm not just talking about physical space here, I'm talking about the psychological and emotional space where you give yourself the permission/blessing to explore this passion that is meaningful to you. There are thousands of reasons why we talk ourselves out of the things we know are essential to our happiness. It's time to explore all the reasons why you need this Passion Project in your life, and embrace those reasons as your truth. Once you've done that you can then shift your energy to creating a physical space devoted to your Passion Project. Some ideas include:
– a quiet corner of your home for reading
– a warm and well-lit space for painting, yoga, scrapbooking, crafting
– an update or organization for your kitchen
– a desk filled with beautiful pens, paper, journals for your writing
– an entire studio in your newly-renovated basement
– a rental studio or rehearsal space for music, art, dance, meditation, yoga, fitness
– a ballet barre of your very own
6. Share Your Intentions
Once you're clear on how essential this Passion Project is to your own happiness, reach out and share your desire to explore this passion with the people you trust the most. Your family and close friends can be vital with their support, and can even help you by offering childcare, their own resources, some encouraging words to keep you motivated, and maybe even some of the equipment and supplies you need. Don't explore your passion in a vacuum, unless your passion is housekeeping. You need to share your intention safely to further solidify your commitment to yourself.
7. Make Lists
List making is one of the easiest ways for me to approach just about anything. Not only do lists help me sharpen my focus, but they also provide me with a plan of action as my ideas take shape. Here are some great lists that will help you explore your passion. You can click here to get a FREE PDF of these lists that you can print and fill out:
– Why I Need This Passion Project in My Life (this one might be great to hang by your inspiration image or creative space)
– Supplies and Equipment I Will Need for this Passion Project
– The People in My Life Who Can Help My Passion Project (get into the details of how you see each person helping and supporting you)
– How My Passion Project Makes Me Feel
– 10 Great Resources To Get My Passion Project Rolling
– 10 Things that Get In The Way of My Passion Project (sometimes just writing down the roadblocks makes them easier to get around)
8. Be Mindful
Remember that losing focus business I mentioned earlier? Life can really get in the way of the things we do for our soul. Take five minutes each morning, when you are quiet and alone (even if it's in the shower) and focus in on your Passion Project. How will it manifest in your day? How will you honor it with time and/or energy today? How will it make you feel to devote that space to something you are passionate about? How does your Passion Project make you feel in this moment? Why is your Passion important to you today?
9. Be Kind and Loving to Yourself
If you are someone who is used to doing everything for everyone else in your life, shifting your focus to yourself can be terrifying. If you don't like trying new things because you're afraid of failing at them, you may never want to get started. Embracing your Passion Project will come with a whole set of fears, worries, doubts, and frustrations, but this is part of the experience for every single one of us. In these moments, know that you aren't alone. Breathe and remember why your Passion Project was important to you in the first place. Give yourself permission to learn and evolve, and understand that without making mistakes or practicing new skills, learning and evolving is impossible. Be proud of your courage and commitment to your own happiness.
10. Share Your Journey
As you begin your Passion Project, take notes along the way to document the process. Keep a journal, start a blog, snap photos, make audio recordings, create email updates for your close friends. However you feel most comfortable, keep an account of the process. This will help you see your growth, and will inspire other people just like you if you choose to share your journey.
Begin your Passion Project. Use these steps to move towards your own happiness and fulfillment. Remember, the goal isn't to quit your job (though that may end up being the path you take) but to enrich your own life in whatever capacity you can, right now. You deserve it. We all do.
Still having trouble getting started? Email me and let me know what's holding you back.


Comments
comments