My three-year-old son is asleep. (Scratch that, was asleep.) I know he's not himself because he willingly allowed me to bundle him up in the stroller and wheel him into unconsciousness on this glorious pre-spring day. This is something he usually fights tooth and nail (literally, sometimes). Unless there's a mob of other three-year-olds, like at school, Noodle isn't napping. He's not at preschool today because he's staying home to smear snot and spittle all over every square inch of me. He's lucky he's cute. All of this to say that when you're a work-from-home mom, ain't nothing getting done with a sick baby. What better time to take a look at staying focused on the things you are passionate about?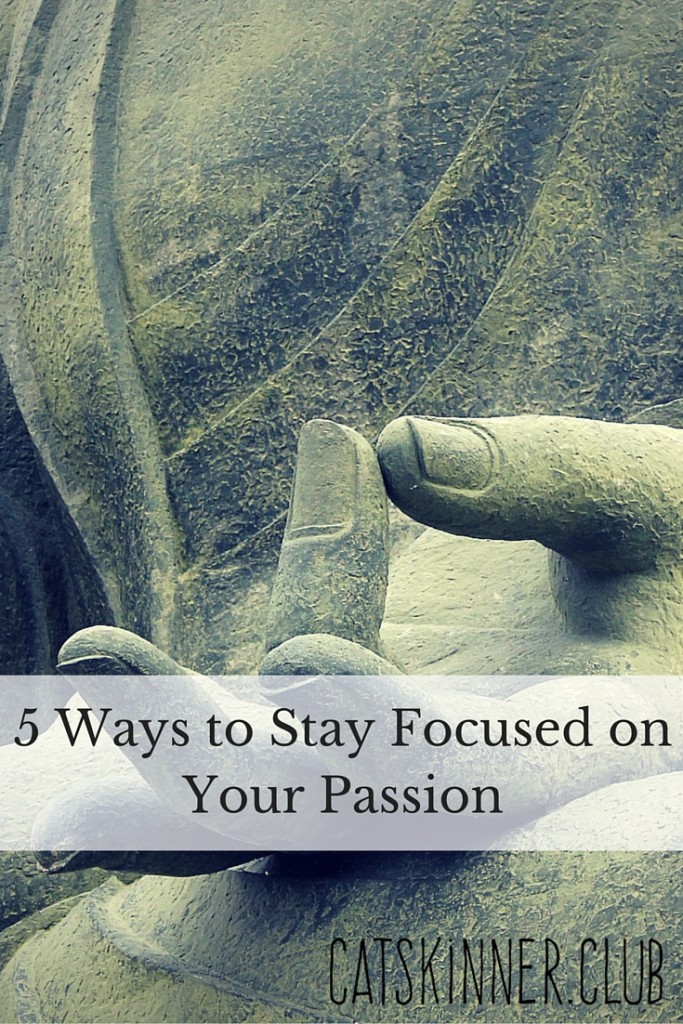 If you read
my last post
, you'll know it's been a bit of a creative struggle these days. I learned something, writing that post, something my wife was kind enough to point out. Once I hit 'publish' on that kind of whiny rant, I almost instantly felt better. So, there's my first tip for those moments when your heart's work seems far away:
Create an outlet for your frustrations – You need a hole to shriek your ugliness into. Okay, I realize I just compared this blog to a hole, but I think you get what I mean. It's impossible to be positive all of the time, but the key is not to choke on your own negativity. So, roll yourself onto your side, and find a safe place to let it all out. Write in a journal, paint it, work it out physically. Just don't ignore it, because that negative shit is like a fungus – it feeds on the dark musty corners of the soul where we try to shove it all away.
In my world, if it's not on paper, it's not real. Yes, that's a bit of an exaggeration, but if I don't make time to carve out my own dreams and goals and literally schedule them into my life, they don't happen. I seem to lose track of them in the flurry of all that other life stuff that pays bills and keeps little ones booger-free and well fed. So here are another two tips that usually get me back on track:
Make lists – remind yourself of your goals, those feelings you want to feel, those things you want to create. Write these things down. Write down why these goals and feelings and creative projects, or passion projects are important for your soul. Keep this list where you can refer to it, often.
Create a schedule – Literally make time in your week for your passion projects. Schedule them in time slots that you carve out of your busy schedule. I know you have a busy schedule, because we all do. It's totally possible to make time for your passions, you just have to take it where you can. I'm doing it now, because I have a perfect excuse for not focusing on more technically demanding work. Even if that excuse keeps pinching me with his toes.
Place things that fill you with joy and fire at the top of the list of things that make life worth living.
Click To Tweet
I can't spend an entire day with my sick little nugget, as much as I'd like to stay in my track pants and watch cartoon after cartoon. We are fortunate enough to have so many parents in our home that we can literally all take shifts with the little guy, and so I will be able to duck out to a meeting I have scheduled this evening. That's not so bad, because it's with a great group of people for a cause that I'm (you guessed it) passionate about. So here's a tip that almost always does the trick for me:
Get in the company of inspiring people – You know who I'm talking about, right? Not famous people, or mentors, or anything like that. Just regular people who have that great energy that tells you they are happy to be here, doing whatever it is they are doing. They make you feel good, just by being around them, and you want to feel the same kind of joy-buzz. If you don't have at least one of those types on your list of real-life friends, find somebody. Call them up, have a coffee. You'll leave invigorated and ready to tackle your passions from a new perspective.
Did I have a million other tasks to complete while my son was sleeping? Sure I did. I mean, my pile of laundry seems to be sprouting arms, and is very likely going to do itself soon. I could have tried to sit down and knock out any of the other items begging to be checked off the list, but instead I find myself writing this post, just because. Sure, it's taken two days to knock it out, (it's now 6 am, and the little dude is still sick) but something was compelling me to write, and I decided to listen to that. I'm glad I did. It felt really good to shift back to something I love to do. That's my last tip for you today:
Do something you feel passionate about – Literally drop everything if you can, and spend even a few minutes in that precious space you've carved out for one of those things that fill your belly with fire. Nothing else will remind you so quickly and so completely of the importance of making time and space for your passions than being in that 'zone of fire'. You can read all the books, pin all the posts, like all the quotes, but nothing is more powerful than actually doing what you love. Just try it, you'll see exactly what I mean.
There's a little dude with glassy eyes and crazy hair snuggled up beside me, randomly pressing keys on my laptop, and asking for Cheesy Dibbles. It's a whole new day, nearly 16 hours after I started writing this. The songbirds are starting a symphony outside, and though I know I'll have to wade through my work tasks while dodging sneezes for a second day in a row, I was lucky enough to have a few precious moments for my passion in the early hours of the morning. I had those moments because I took them, and believe me, I'm not much different than you.
Prioritize you passions, darlings. Those things that fill you with joy and fire live at the top of the list of things that make life worth living. If you're having trouble figuring out how to tend to your fire, let us know what stands in your way in the comments below, or
drop me a line
and I'll be happy to try to help. I'm always just an email away.


Comments
comments