Oh, my heart. Today's post is a beautiful and raw look at body image from our incredibly radiant holistic nutritionist Jackie McCaffrey. What's more, Jackie includes another gift at the end of this post with her FREE e-book of her latest gluten free, vegan mason jar recipes! Read on as Jackie shares her tips for how to start loving what you see in the mirror.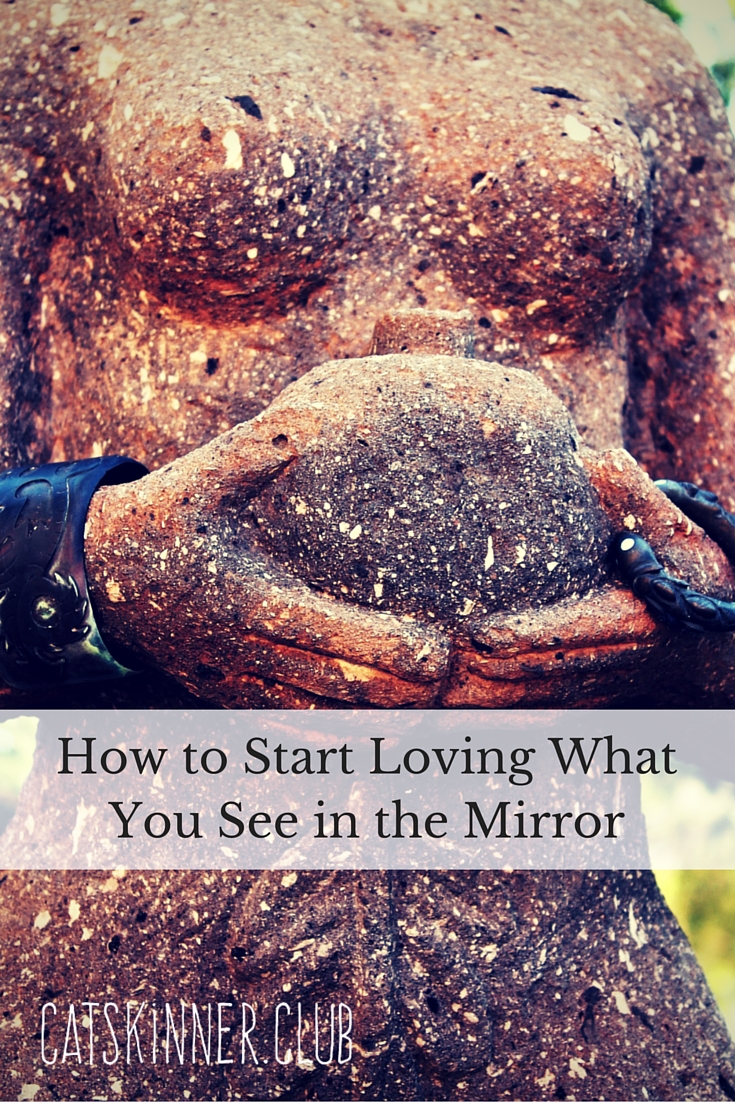 Body image is a subject that just never seems to get old, no matter how tired we get of hearing about it. More and more, those who are considered plus sized models are being featured in the media and the call for super thin bodies is less pronounced. Conversations about bodies are very important to have, however they are still placing emphasis on the need to define a body type in the first place. For me, this is okay if the conversation is around the health implications associated with a particular body type, thin or overweight. What I find difficult however; is when the focus around bodies is simply about the way we see each other.
It may surprise you to know that I struggle with my own body. I always have. I'm not sure what, if any one thing, has contributed to this. I have no doubt that years of gymnastics, dance and well, high school, where the shape of a body seems to have such massive importance, had some influence on this. I can't remember a time in my life where I was completely comfortable and happy with what I saw in the mirror. There is a constant feeling of room for improvement that gnaws at me. The ritualistic 'untagging' of photos of me on Facebook because you can see a little cellulite is exhausting.
I'm a nutritionist but I'm also a performer who has worked in the burlesque industry which celebrates all body types. My comfort on stage is why many are surprised when I open up about my struggle. And believe me, it doesn't mean that because I can't seem to look at myself without judgement, that I am judging others. I truly love all the forms the body takes. I covet the curves as much as the long legs or ripped back muscles of those I see around me. A close friend was part of an interview of women in their 30's for a Canadian magazine and was asked if she likes the way she looks naked. She answered with an enthusiastic yes, which I'm sure she assumed I would have done as well, but the sad truth is while I may have said yes because it is what I should say, internally I would have been screaming NO!
My background in nutrition allows me to be more logical about why my body is different than it was even five years ago. I started training in aerial silks during that time, which has greatly increased my muscle mass and thus the number staring back at me on the scale is the highest it has ever been. So while I can reason why I weigh more it doesn't explain why my clothes fit a little tighter or heck, why my breasts have become a cup size bigger. What does explain this is my age. I'm on the cusp of 40 and our metabolism changes because our energy expenditure tends to decrease, as we get older. In fact, the volume of skeletal muscle in the body decreases and the percentage of fat tissue increases with age thanks to age-related decreases in basal metabolic rate. What does this mean? It means that I am normal. It means that I eat really well, I get regular exercise including weight bearing and cardiovascular activities, and I add supplements and superfoods to help keep my body working optimally. I am doing everything I should be doing. (Check out this post to learn more about metabolism.)
My logical self can look in the mirror and say, you are 38 and you look great! You have no physical barriers that stop you from doing anything you want! So why, can't the rest of me look in the mirror and LOVE what I see? A friend of mine recently posted this to Facebook: I have a rare mental disorder. It causes me to look in the mirror every day and think – This is the best I've ever looked. Hope I'm never cured. How you perceive yourself (inside and out) is one of the few things you have control over. You might run out of lipstick on any given day, but self love can be a bottomless resource.
I love this so much and want so badly to have this rare disorder as she puts it and I am sad that she is right, it likely is a rare disorder. How wonderful for all of us to look in the mirror and see ourselves as the best we've ever looked – every damn day. How amazing to have that bottomless well of self-love to draw from.
I want it! Do you want it? What can we do to help us find acceptance and self-love?
Meditation
A chance to find space to focus on only yourself. Time to look inward and work through the important questions and issues that you may face. There are a number of great guided meditations online like this one from Louise Hay or look within your local community to find a mediation center to join.
Check Yourself
Change the conversation with your inner voice. Each time you begin to criticize or 'if only' yourself, stop and force yourself to think instead about the things you love. For me, I like to flex my badass biceps and remember that I worked hard to have those pipes! That helps to quiet the naysayer hidden within.
Journal
Writing in any form can be cathartic but I find allowing myself to sit in my cosiest chair and put down in writing 3 things I am thankful for can be a great help. I can then go back on days when I am feeling down and read what I have written. Putting the judgemental and critical thoughts down on paper can also be a good way to get them out of your head – and then I like to rip the page of the journal out and do a good old fashioned burning, dancing in my underwear with sage, ritually cleansing away those thoughts. Away with you!
My intention for spring is to work on my own body image issues. I want the blooming of the flowers to inspire openness within myself that will celebrate my body and I want to spend all that critical energy on the amazing and positive ideas and plans I have brewing in my pretty little head.
References:
http://www.louisehay.com/
http://www.ncbi.nlm.nih.gov/pubmed/8361073



Comments
comments