Media Kit

Thanks for stopping by! I'd love to tell you all about my latest book Keeping It Up: A Guy's Guide to Great Relationship Sex. You'll find some great info about this project below, or you can download the media kit elements in PDF format here:
Author Q&A (Sure, you can use this if you like!)
Sample Post (an excerpt from an actual chapter of the book, for you to share with your readers)
About Keeping It Up
Want to blow your woman's mind? Wish your wife would get down and dirty like she used to? Looking for ways to connect with your lady and deepen your sexual relationship?
Cat Skinner is your new best friend.
She's not a therapist. She's not a doctor. She's just a relatively average gal who has been an ear to thousands of women and men looking for honest, down to earth sex and relationship advice. Friendly, funny, and always-approachable, Cat has consolidated years of heart-to-heart conversations into a sex and relationship handbook for the average guy in a committed partnership.
Keeping It Up is the insider's guide to what women really want in the bedroom, and how they think and feel about sex. This light and easy book will help to set the stage for acting out your wildest fantasies, for having the conversations that are difficult to have, and for getting the kind of sex you loved in the early days of your relationship.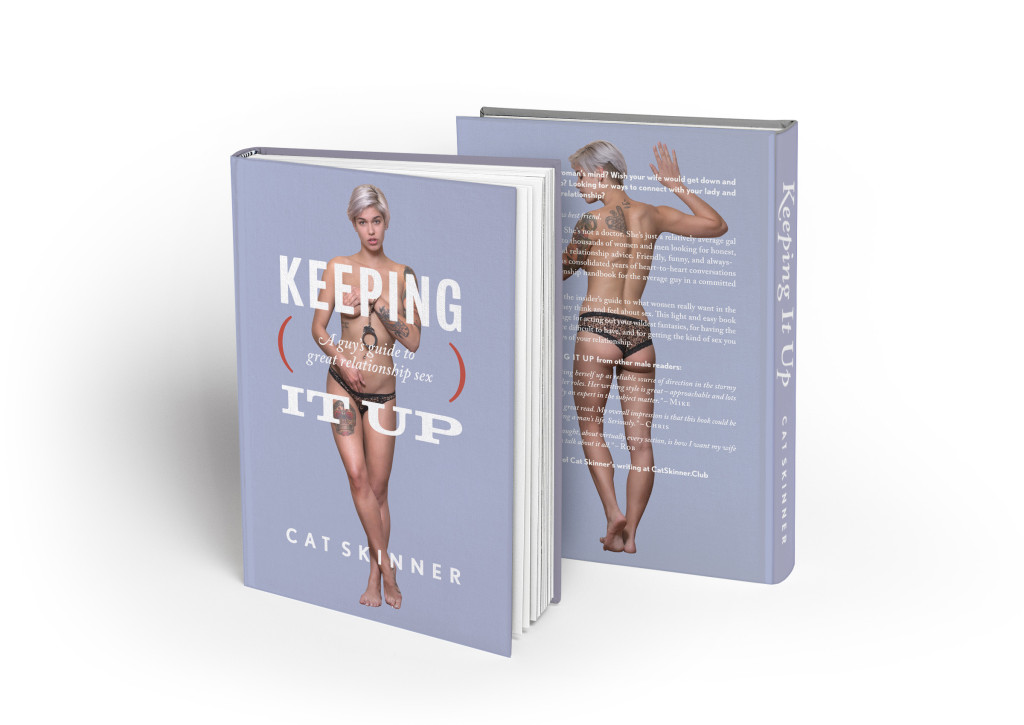 In only 100 pages, Cat covers the following topics:
• Gender roles, feminism and navigating this in the context of a relationship
• How to assess your relationship and identify what's missing in your sex life
• How to help your partner identify and communicate her sexual desires
• Using time-tested tools of communication to improve your relationship
• Realizing and acting out your sexual fantasies
• Unlocking the secrets of what women really want in the bedroom
• Rediscovering female sexual anatomy
• Understanding various types of female orgasm
• Useful techniques and tips for pleasuring your woman
• Pointers for transforming your home into a pleasure palace
• Manscaping basics that really work
• Embracing your inner bad boy
• Dealing with sexual dysfunction
• How to make sex your new hobby
• Rekindling the spark when it's fizzled out
• A detailed list of resources at the end of the book to keep you on your sexual journey
Author Bio & Contact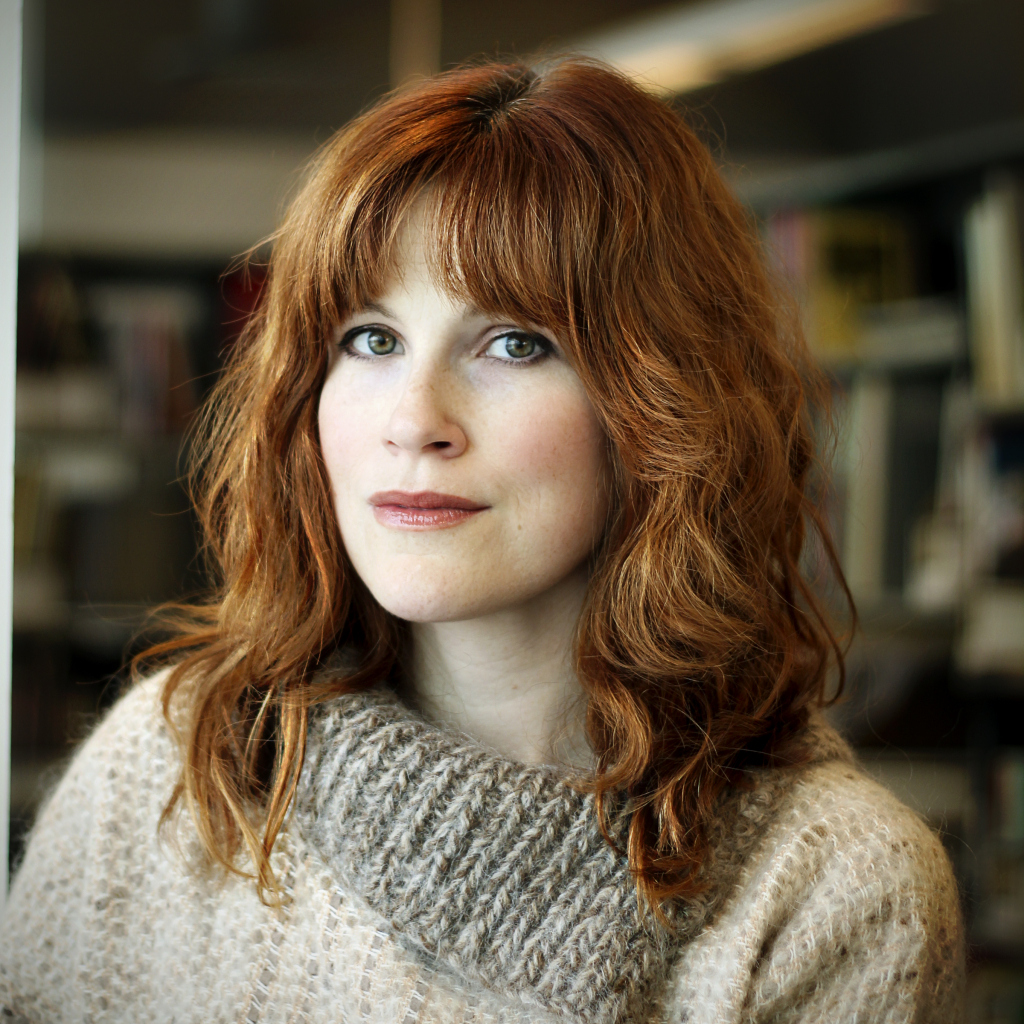 Blogger and writer Cat Skinner has devoted her entire professional life to entertaining people, and helping them connect with passion.
Born and raised in Hamilton, Ontario, Canada, Cat spent her early childhood hiding away to concoct award-winning stories until fate conspired to put her on stage dressed as Madonna at the tender age of ten. Drunk with the power of a stretch-knit mini-skirt, she tossed aside her dreams of literary greatness in favor of embodying the feisty female characters someone else was dreaming up.
In her adult life, Cat is best known as the Artistic Director and Mistress of Ceremonies of a cabaret and burlesque company called Les Coquettes, where she learned the art of reading her audience and responding to their needs. This philosophy guides her writing, her speaking engagements and her coaching practice – she loves connecting with people to answer their questions about relationships, sex, and creativity, in an open and approachable way.
Beyond writing, Cat explores her own passions as often as she can – cooking, reading, hiking, dreaming, entertaining, practicing yoga, and generally seeing the sparkle in every moment. Her most important role is as a devoted mom of three. She lives in Niagara-on-the-Lake, Ontario, Canada.
Contact Info:
For interview requests, speaking appearances or podcast guest interviews you can reach Cat in the following ways:
Email: cat@catskinner.club
Phone: 1-289-479-5558
Sample Author Q&A
What made you decide to write a book for men in relationships?
Keeping It Up began as a project inspired by Amazon sales trends. My partner noticed a book that was enjoying a solid showing on the upper tier of sales rankings for the sexual health category, and we were curious, so we picked up a copy. I love reading sex education material, so I'm always happy to add to my library. Anyway, this particular book claimed to be written by a woman, and claimed to unlock all the secrets men need to know to really please a woman in the bedroom. After reading the book, I had two distinct impressions:
1. There was no way a woman wrote it.
2. Despite a handful of good pointers, and many more outright offensive ones, surely someone else could do better.
I love men, always have. I've enjoyed having many guy friends, and I've always appreciated their candor and willingness to be vulnerable when they are feeling trusting. It pained me to think there were only a small handful of writers who genuinely cared about writing about sexuality specifically for men for (the brilliant Ian Kerner comes to mind) and it seemed like a natural place from which to start writing.
There are lots of great books that teach dudes how to pick up and get laid, but eventually many of these men decide to commit to one relationship. Guys deserve good reading that helps them be more vulnerable and make deeper connections.
Why do you think that you, in particular, have something to bring to a male audience?
Ever since I learned about the birds and the bees, I've had a real fascination with human sexuality. In fact, all anatomy and physiology had me riveted, and I remember excitedly watching documentaries about the human body with my dad, and reading all I could about how our various biological systems worked. It struck me on a deep level that in many circles, it was more acceptable to have an intimate knowledge of our poop than of the parts of our bodies that we use to create life and experience pleasure. We have these incredible parts, and I guess it just made sense to me to want to know how to use them all really, really well.
This natural curiosity and thirst for knowledge has always made it very easy for me to talk about sex education. I like to share what I've learned, and I especially like to help other people feel more comfortable about educating themselves. Healthy sex ed, for kids and adults alike, is something I'm really passionate about, and it's one of the things I've blogged about for years.
I've had a lot of male readers, relatives, and friends ask me for sex and relationship advice, and I think I have a knack for talking to men in a no bullshit kind of way that is also really compassionate. Also, I'm a sex-positive mom to three kids (one of whom is going to be a man one day), in a committed relationship of my own. I used my own ideas and opinions, and padded them with some of the amazing things I've heard from women, both as a female confidante and as a blogger who writes about relationships and personal struggles.
What's the most common thing that relationships are missing?
This is an easy answer with a difficult solution. I can say most relationships, even those that aren't intimate, are lacking in good communication. Despite years of therapy, and a ton of great reading about communication, I still struggle with this myself. Communication skills can be most elusive when we are feeling vulnerable and emotional, but I think it's like a muscle – the more you exercise the various tips and techniques, the better they work when you need them. Keeping It Up is FULL of great communication tips, and these work to make things more connected and more passionate both in and out of the bedroom.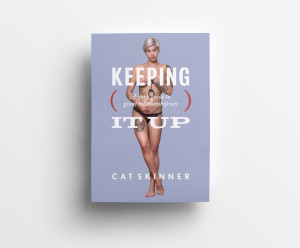 Is it reasonable to expect couples to have the kind of sex they had when they were dating?
Oh hell no. If you watch someone poop that many times, it's bound to affect things in the bedroom.
That hot, heavy, spontaneous early-dating-sex becomes a rare unicorn once you add kids, outside pressures, and years and years together into the mix. However, I do think it's possible to create a more familiar and comfortable passion that comes from deep connection, and from knowing your partner so well, and this type of passion is easily as intense as the kind of sexual energy we find during courtship. It's all about connecting to that open, vulnerable, and dare I say spiritual place where you both agree that a healthy physical relationship is important. Also, think of how great you get at hitting the target when you practice an athletic technique over and over? This kind of practice makes orgasm really efficient for some couples.
It takes commitment and willingness to keep nurturing the sexual aspects of a relationship, and it doesn't just happen when you put sex on the back burner, though of course, all couples go through periods where sex isn't at the forefront of everyday life. What's essential is connecting with each other to create agreements around what you want your sex life to look like, wherever your relationship is, and finding a balance that makes everyone feel happy and loved.
What would you say to a guy who was hesitant about buying your book?
If your sex life with your partner isn't what you hope it could be, you have the power to initiate some big changes, and this book will absolutely help you get the ball rolling. You can read it discreetly as an e-book, and if you want to, you can also share it with your lady, because I'm confident that she will love it too. It's fun, it's real, and it's written by a (fairly) normal person, just like the two of you. I tried to make it more of a conversation than a lecture.
If your sex life is fantastic, and you want to continue to keep it that way throughout the many twists and turns your relationship will take, this is an awesome resource for you. You can refer to it over, and over again, and always find something new to keep things humming.
What about your female readers? Why didn't you write something for them?
In many ways Keeping It Up is a book that couples can enjoy. I wrote it for specifically for men, but because I'm a real woman, I think my voice and my opinions will absolutely appeal to female readers. Most guys will probably want to share this book with their partner, who I suspect will be delighted that they bought it in the first place.
Also, this is only my first book! I've got many, many more ideas and some of those are absolutely going to be directed at my female audience.
Sample Excerpt from Keeping It Up
Here's an excerpt from chapter six of my book, entitled Ten Things Women Wish Men Knew About Sex. It makes for a great guest post, so feel free to re-post this, and kindly link back here to my website. Also, if you'd like to use the image, just shoot me a note. I'll supply the original, and the proper photo credits. Of course, I'm always happy to write a fresh guest post for your blog. Please contact me, and we'll work something out!