Today's post is by my favorite health and wellness elf, Jackie McCaffrey. I asked her to write about natural immune boosting, because this seems to be the time of year when we're most vulnerable to illness. If you've been battling the cold or flu season, and you feel like you're at the losing end, read on and make sure you take note of the Free gift included in this post!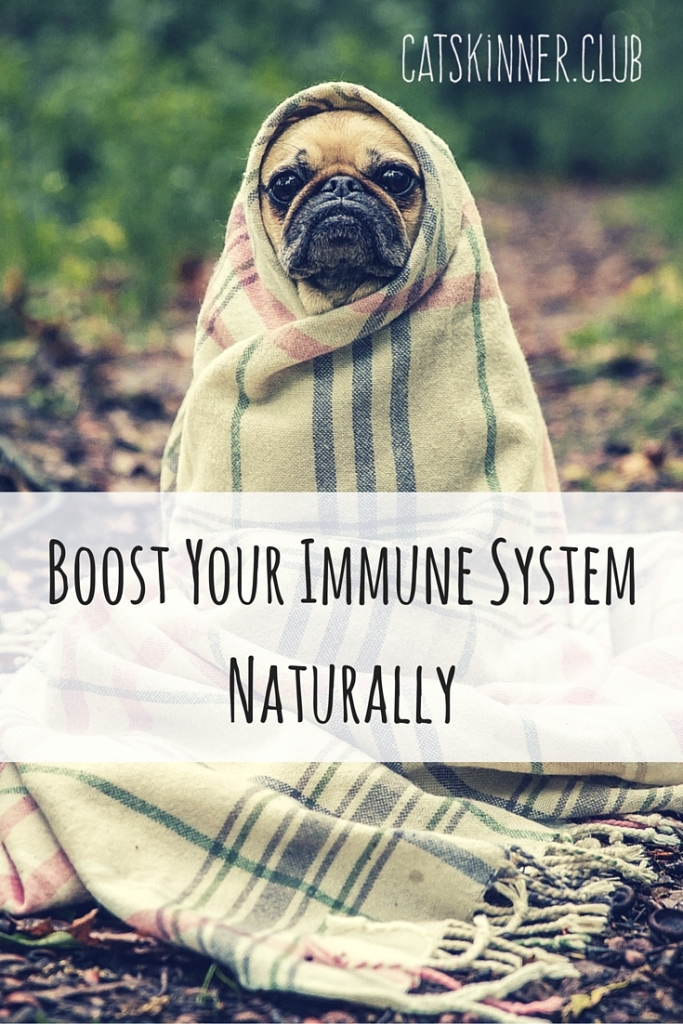 It's the holiday season! For many this means carolling, mulled wine and downtime with family. For others, it means snowy winter weather, Christmas shopping crowds and cold and flu season. No matter which side of the spectrum you fall on, this time of year can leave us feeling run-down and under the weather. There are, however, some natural immune boosting ways to set yourself up for a healthy and happy season.
The immune system is an extremely complex integration of different parts. Because of its complexity there isn't one approach to restore and support it but rather a more holistic one, which addresses the psychological, neurological, nutritional, environmental and hormonal factors that can affect its overall health.
As with all things in life, being proactive and maintaining a strong body that is resistant to colds and viruses is the best approach and you can do this by using 3 key strategies.
1. Eat a Health Promoting Diet
A health promoting diet truly is a shift in the way you eat every day. It incorporates a largely plant based diet by eating a rainbow assortment of fruits and vegetables, which helps to prevent virtually every chronic disease by ensuring your body is getting a variety of vital nutrients and minerals. This diet also means reducing your exposure to harmful pesticides and food additives that can depress your immune systems and also includes eating the right type of fats along with regulating blood sugar levels. Drinking lots of water is also key to an overall healthy diet.
2. Live a Health-Promoting Lifestyle
A health-promoting lifestyle incorporates exercise, which has a powerful and positive effect on mood through the release of endorphins and on our physical body by supporting our cardiovascular, musculoskeletal and immune systems. High quality sleep is also essential to our body and mind since many health problems are partially or directly linked to sleep disturbances and deprivation.
3. Having a Positive Mental Attitude
There are many studies that show the link between the brain, emotions and our immune system. Scientists are discovering that every thought, emotion and experience we have sends a message to the immune system that either enhances or impairs its ability to function. Simply put, this means that positive emotions boost immune functions while negative emotions suppress it. Any time you feel yourself getting frustrated or angry, try thinking of 3 things you are grateful for and watch the immediate shift in the way you feel.
If, despite all your awesome, health-promoting work, you still end up with the dreaded cold or flu; here are some tools to help you get through it and back on your feet in no time.
1. Rest
There is no way around this. You need to create space in your life to allow your body to rest and recover.
2. Supplementation
I'm a big advocate for getting your vitamins and minerals through food whenever possible but sometimes you need an extra boost. Vitamin C and D are great for helping fight off colds and in the case of Vitamin D, protect against viral upper respiratory infections.
3. Superfoods
Not all foods are considered equal as some are just more densely packed with amazing health optimizing goodness. Chlorella for example is an algae that can increase our resistance to viral infections and enhance our body's ability to kill bacteria. Bee Propolis is the resin used on beehives to protect the hive by keeping bacteria and intruders out but it also protects us by acting as an anti-bacterial and anti-viral (similar to Oil of Oregano but much better tasting!).
4. Beneficial Spices
Ginger and garlic are my go-to spices when I'm feeling run down. Ginger warms the body when you are feeling chilled and can also help to settle an upset stomach. Garlic keeps the vampires, bacteria (and maybe your lover) at bay thanks to the immune boosting and stinky sulphuric compounds.
5. Use a Vaporizer
No, not the kind you smoke those mind-altering herbs from. A vaporizer in the bedroom or living room can help to keep your respiratory tract moist, which helps to repel viral infections. Add a few drops of essential oil such as thieves oil which supports the immune system (and smells like Christmas!) and you have a powerful and natural way to help you through the day and night.
Want to win a free nutritional consultation with Jackie and get the New Year off to a balanced and nutritious start? Click here to be entered, and we'll announce the winner on December 23rd!

Comments
comments