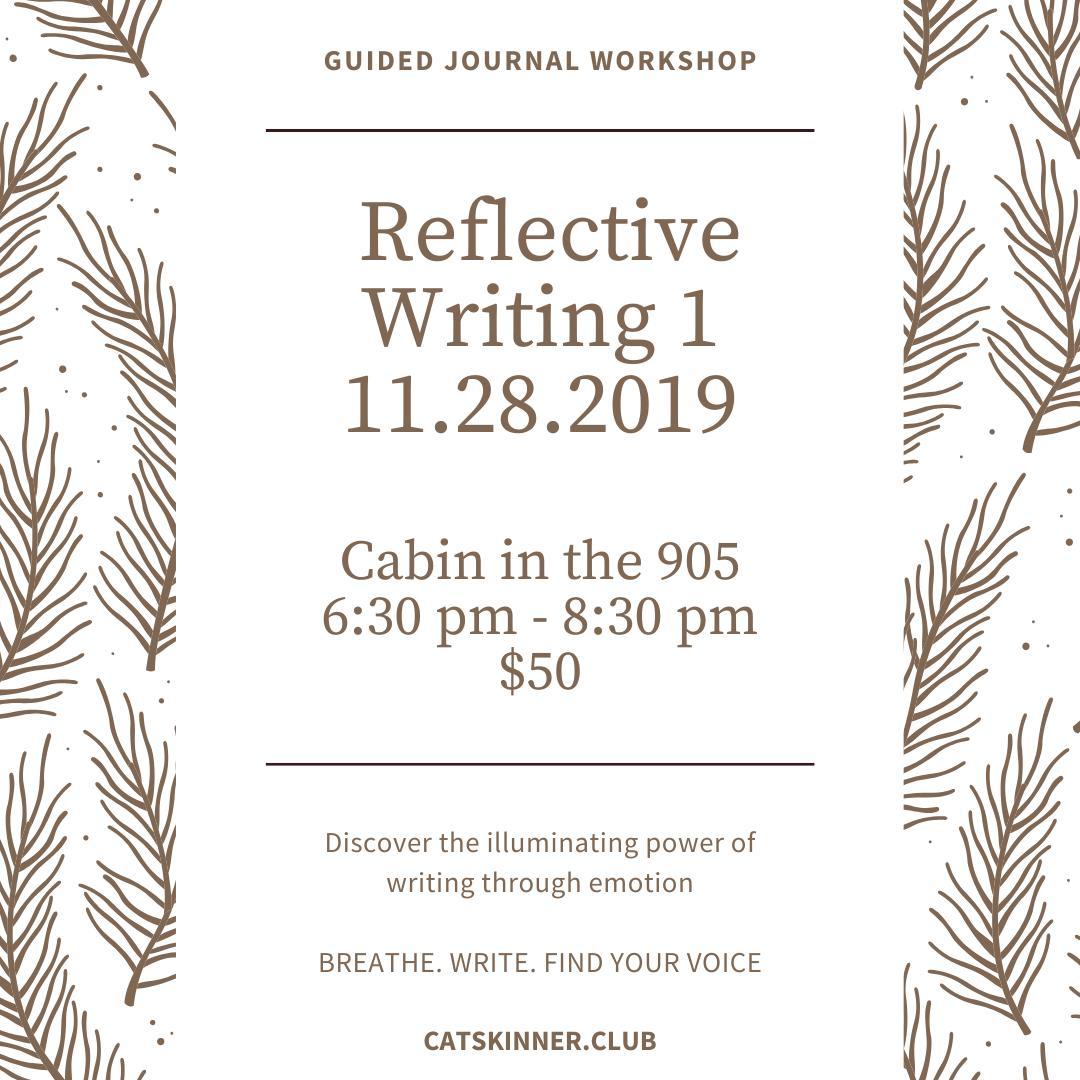 Discover the illuminating power of reflective writing
Breathe. Write. Find Your Voice.
An exploratory evening of guided writing in one of Niagara's most unique AirBnb venues. We'll tackle how to begin a reflective writing practice, break down barriers to your writing, and how to unlock the power of writing through complex emotion. In the second half of this workshop, we'll explore writing and ritual with some autumn releasing and gathering prompts. Bring your own journal or purchase one at the event. Refreshments and delightful writing tools provided.
*Cancellation policy – A refund, less a 10% administration fee, is eligible with up to 24 hours notice. No cancellations are accepted 24 hours before this event
Reflective Writing 1 – A Guided Journal Workshop
Thursday November 28th, 6:30 – 8:30
Cabin in the 905
Spaces Limited
Advanced Registration Only
$50
Registration Form – Please complete, send, and then click the paypal button below to send payment.
Please click the PayPal button below to submit your payment and secure your space in the workshop
Workshop Reviews:
Workshop Experience
★★★★★
"
Cat is one of those beautiful souls, who captivates her "audience" (aka anyone in ears distance) with her words. Her gifts range from being able to articulate anything into the most beautiful story or description, to helping others flex their creative muscles when it comes to writing and journaling. As someone who enjoys writing, I was extremely satisfied with the layout of this event. It was comfortable, welcoming, and helped us to relax and dive deep into our journaling experience. If you are someone who enjoys writing, or who has never journaled before but is curious to know more, I urge you to treat yourself to this beautiful event. You will not be disappointed. xo
"
Breakthrough!
★★★★★
"
After years of not being able to reconnect with my writing, I decided to join Cat's workshop. The atmosphere and energy was safe and inviting. She assisted us with writing prompts that allowed us to break through past blocks and connect to deeper emotions. This assisted process gave me the opportunity to reflect and release on an issue that was holding me back. She also provided us with the most delicious snacks and beverages to fuel our process. It was a wonderful and connecting experience that I would recommend to anyone.
"
Refreshingly Intimate
★★★★★
"
I had the pleasure of attending Reflective Writing 1 hosted by Catherine. I expected some fun writing exercises but what I was met with was an intimate evening where I was guided through learning to fully express myself through my writing. The setting was cozy and the tasks were laid out in a way that allowed us to delve deeper into our emotions with ease. I walked away with techniques that I will certainly be able to continue to use going forward. Highly recommend.
"
Loved it.
★★★★★
"
Cat was wonderful (as always) and the workshop really motivated me to write more and to dig deeper and explore my thoughts and feelings more. The workshop was hosted in the cutest location. It was sooo cozy and intimate too which was nice. I highly recommend going and can't wait to go to another one!
"
Have you attended a workshop in the past? I would appreciate you leaving me a review below: