So today was a pretty exciting day for the Noodle (my nick name for my three-and-a-half year old son) and I. He had been looking forward to this day for months, in a way that surprised me – I didn't know a kid that age could track time this way. Today was kindergarten orientation. He caught a glimpse of the excitement waiting for him in September, and I caught a glimpse of just how many boxes of tissue it was going to take to get through the first day of school.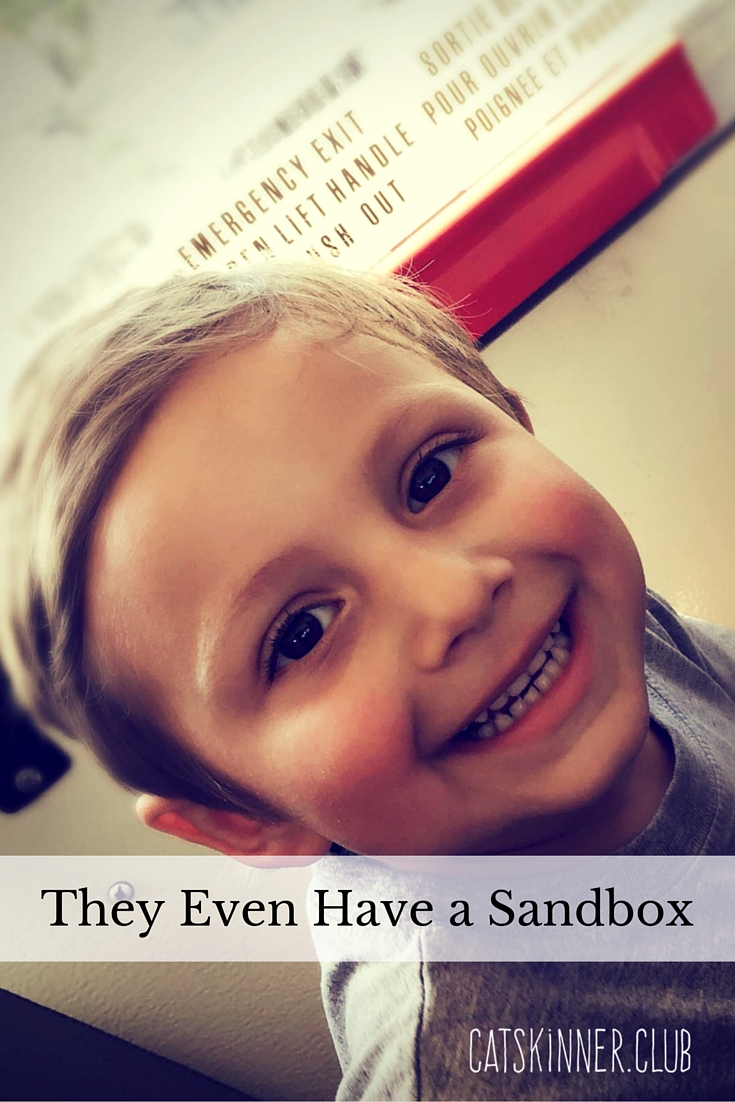 The kindergarten classroom was everything I wanted it to be: clean, bright, filled with natural materials, lots of hands-on play opportunities, a solid house corner, water table, and as Noodle breathlessly declared "They even have a sandbox!". To him, it was a little dude paradise. The teachers seemed lovely, and switched on to the importance of things like one-on-one attention, affection, and outdoor play time. Noodle even had a pair of his buddies from daycare to bond with. The highlight however was the practice bus ride. Oh my heart.
Watching how his big head and little body bounced and lurched on the bus made me realize just how little an almost-four-year-old still is. Sure, he'll be on that bus with his ten and nearly thirteen-year-old sisters. Sure he's beyond thrilled about the whole thing. Still, I saw The Sweet Hereafter, well before I had kids, and the idea of a little body on a huge school bus simply makes me want to barf. I kept my cool though. I know it's dumb to download those illogical anxieties on your kids. The world's his oyster, and I want him to feel that way just as long as he can.
But here's thing…No matter how vast the universe of possibility and opportunity I want for him, it aches deep down into my very atoms (another Sweet Hereafter reference?) when I think of him growing up. Obviously I want him to grow and thrive, but there's always going to be a part of me that wants to keep him as close as I can. Like, on a cellular level. I guess that's what you get for growing a person in your body. Though hell, I get those pangs for my non-bio daughters too, and I didn't even get to meet them until they were three and five.
Watching my twelve-year-old's sharp angles slowly morph into softer curves is the sweetest form of heartbreak. I know she's going to blow minds and take names, but I also know that the sweet little bubble we have built up around our tadpoles, with spit and love and tenacity won't hold forever. Eventually it will burst because the world is just like that. It's a bubble bursting, bubble blowing party.
And as long as they aren't dating, playing injury-causing team sports, blowing auditions, taking school buses, having adventures without us, basically, we get to keep that bubble in tact. Kind of. Not really. Sigh.
The greater your love, the greater your fear of loss. The greater your loss, the greater your fear of love. I can't shut it down, no matter which end I tackle. I feel the magnitude of my fear just as deeply as I'm filled with the depth of all this love in my heart.
So, I'll keep my shit together on that first day of school until he's safely inside his classroom. (Because I'm driving him there on the first day. The bus will have to wait until day two, damn it) Then, after I get into my mom-mobile I will shed those tears and say goodbye to the sweet stickiness of the toddler years. Goodbye to our carefree Fridays off, playing zoo and enjoying day trips together. It won't be as bad as the first day of daycare. I know this, because leaving him sobbing in the arms of a stranger was the worst parenting experience I've had thus far. He's excited about Kindergarten (or JK/SK as he calls it) in a way that he never was about daycare. Maybe he had a premonition of all of the colds he would be destined to bring home from such an unsophisticated place. Or, maybe even he knows he's growing up and hitting the big leagues. Even he knows this is a great big deal in the department of milestones.
Thrive on little man. Play with all of the plastic animals. Sift your pudgy fingers through all the sand. Make all the macaroni art. I'll spare you my tears, just know that I want you to drink up every moment that JK/SK lays at your feet. And please, for the love of God, be careful.