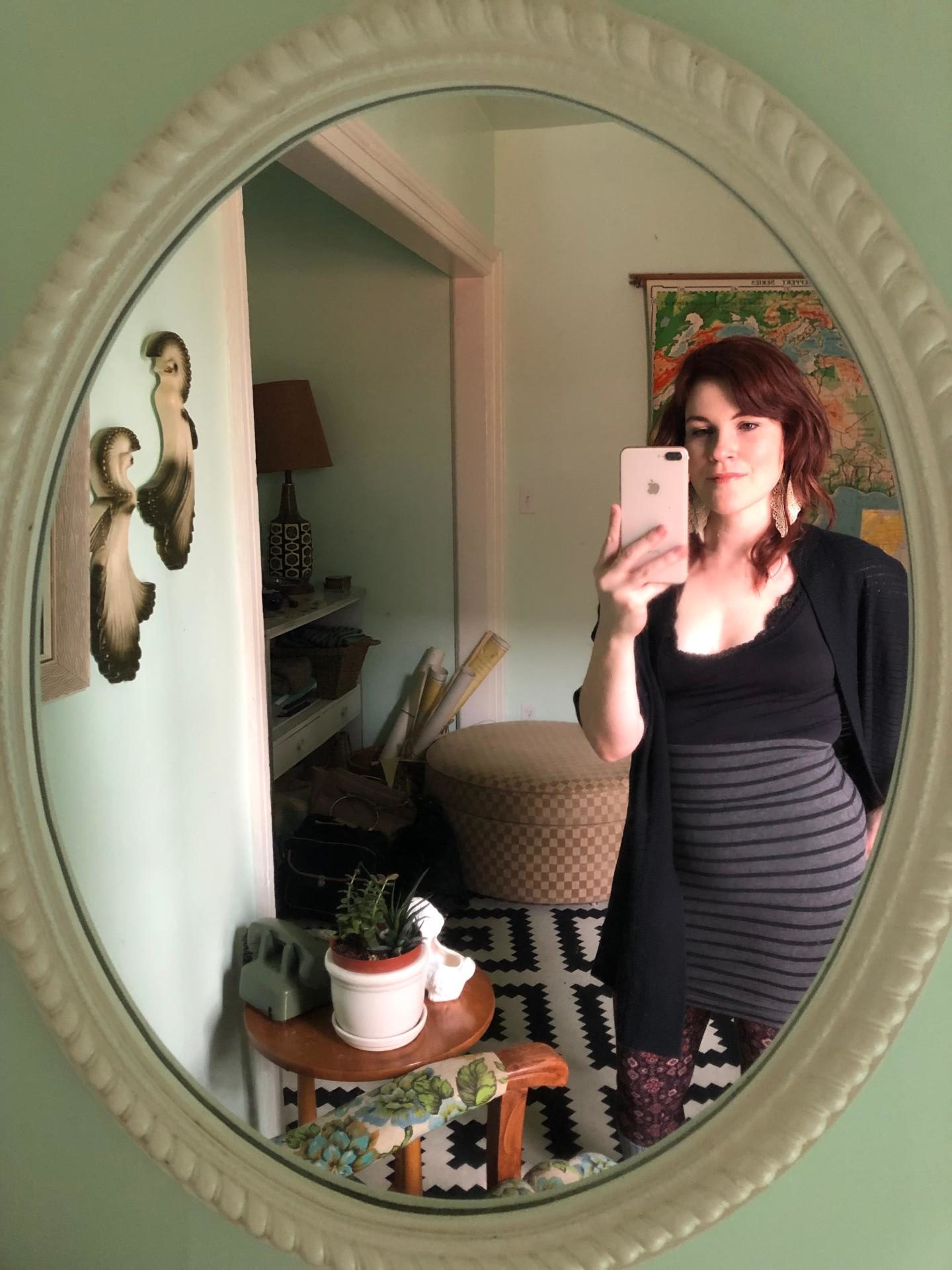 I thought the crazy in my life was over, at least for a little while. But crazy doesn't care about timelines, it seems. Or how much you've been shuffled around, unsettled, displaced. Crazy finds you when it wants, and it found me again on February 6th, the day of the first of a series of ice storms.
My son was with his dad, home from school because it had been cancelled. I was under the weather with a cold, and was thoroughly delighted to be working in bed for the day. No interruptions, no need for makeup. Then it began to rain in my apartment.

What began as a small ceiling drip turned into a waterfall from the light fixture in the kitchen and the bathroom fan. The insides of the walls were running with water, which was wicked up by the carpet. It got worse and worse until there were no more buckets or bins to fill, and then I ended up fleeing because the carpet was soaked, the rain kept coming in, and I didn't know what else to do.

The damage got worse. I've lost part of my wall in the kitchen, the ceiling in the hall, the wall in the bathroom. The wall-to-wall carpet is destroyed. The whole place smells like boiled cabbage from the moisture in the ceiling, the walls and in the carpet underpad. They've installed heaters and dryers and dehumidifiers. The damage is so extensive that I've had to remove the entire contents of my apartment so that when they do repair and renovate, nothing will get destroyed.

The only possession I lost was an art print I bought at Winners years ago. I've carried this print to every place I've lived in since graduating from college. It's a miracle there wasn't more property damage. Hopefully nothing will be mildew damaged. I'm insured, thank god, so the insurance company sent in people to clean and pack and store my stuff. I'm covered for a couple of months of temporary lodging.

It could have been a lot worse.

The cost is in lost work time, but my clients have been wonderfully patient. There's an emotional cost too, with the sense of overwhelm that's so easy to feel when your home is no longer your home.

What am I meant to learn from this? This flood happened just as I was truly beginning to enjoy being alone. Beginning to feel at home in this new space, this new life of mine. Now, nobody can tell me when I'll be back. They have to replace the entire roof first, which is no small task in February. My best guess is two months.

I tried to stay with my exes, and while it was so sweet to be with the kids, their was an emotional toll in being in my old home in its new state. There was also tension. We still need to have a few important, healing conversations, and those issues continue to exist below all of the love and goodwill that lives on the surface. I'm immensely grateful that they've taken my kitten though. He's very happy there with the kids, and my middle daughter is madly in love with him.

Fate at least arranged for a good personal hook up. A new friend happens to have several local Airbnb options, and they were gracious enough to arrange a short-term-rental for me. The place is all kitted out with retro charm, and it's cute as hell. Once my clothes are back from the cleaners, I'll whittle myself a capsule wardrobe and live a minimal kind of life. It should be interesting to discover what it will mean for this new friendship, to shift into a landlord/tenant dynamic.

It's quite a thing to look at all the crap one has accumulated and decide in a matter of hours what one might need for a couple of months. As I type this, a crew of strangers is going through and inventorying all of my possessions. There were so many people in my apartment today, I simply couldn't stay. I rescued my plants and my printer and I ran away. I spent the day yesterday packing up all of my lingerie and grown up toys. My baby daddy was gracious enough to help me haul my bins and boxes up to the new digs.

What is the lesson? That the idea of home is not tied to stuff, or even a physical location perhaps. Home is a sense of belonging. A deep, comfortable place where you can be yourself without pretense or apology. Perhaps the lesson is that I am my own home. That a roof is irrelevant, because it's a movable reality that follows me wherever I go.

What do I require beyond this sense? I need a laptop, a notebook, some pens, a few articles of clothing, outrageously big earrings, something good to read, and my kids. So long as I have the above plus friends to sip tea with, have long conversations with, break bread with, share physical affection with, I've got everything I need.
What do you need to feel like you're home?

Comments
comments