I love giving gifts. In fact, I love everything about gifting, from choosing something that's just right for the recipient to coordinating the perfect gift wrap and a card that says exactly what I want it to say. You can imagine that Christmas must be an incredible time for me, and in the past, it has absolutely been an excuse to go overboard. This year, I really want to approach the holidays with absolute mindfulness; no over-spending, no over-indulging. I want to focus on the things that really matter. That's why this year, we're giving our loved ones (almost) free holiday gifts.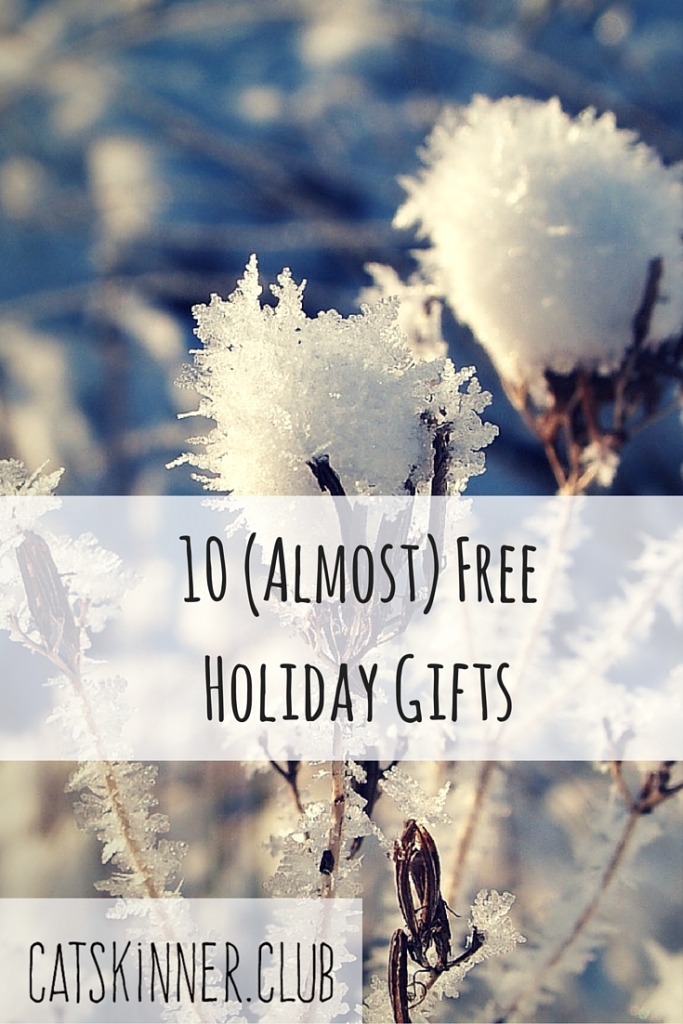 Next week is going to be sheer madness as we step into production week for the musical my twelve-year-old daughter is involved in, so I have very little time for shopping, crafting, or baking. How will I tackle holiday gifts without getting stressed out or resentful? It's a two step process, my friends.
The first step is alcohol. Kidding. Sort of. The first step is this mindfulness business I've mentioned. I don't want to feel stressed out and resentful. I want to feel connected to my friends and my family in a positive way. I want to share warmth. I want to feel joy. I need to keep these feelings at the forefront of my day, and remember they are what is important.
The second step is imagination. I'm lucky to have a lot of wonderful, non-materialistic people in my life, who will be delighted with gifts from the heart rather than stuff they neither need or want. I'm also lucky to have this blog space to work out my gift-planning, and I hope that you may benefit from some of these free holiday gift ideas. Stop the insanity of holiday commercialism here and now, and pour yourself a hot toddy while you're at it.
Time is the most precious gift you can give.
Click To Tweet
1. Stay-At-Home-Restaurant
Find a date when your loved one or friend is available and create a hand-made invitation to dinner. Either host them in your home, or bring your culinary skills to them (a great option for older family members who are nervous about winter driving). The follow-through is important on this one, make sure you set a date and then keep it. Enlist the kids in food service, drink refreshing, and entertainment for a seriously memorable dining experience.
2. Movie Marathon
Bring the movies home too. Invite friends or loved ones to enjoy a marathon in the comfort of your home. Pop corn, make healthy snacks, and settle in for the entire Muppet Movie collection. Or your favorite holiday films. Or the very best of Bollywood. This is awesome, I'm totally doing this. Pajamas only.
3. Framed Photos
The gift of beautifully selected, lovingly framed photographs is even more precious as we advance further and further into this digital age. How many times have I thought of framing photos only to blow it off with the "I'll do it later" excuse? Pictures of grand kids are a perfect gift, and if you're handy with Photoshop why not restore and blow up some family classics? This one is a bit of a time investment, but it's always a cherished gift.
4. Original Art
Okay, we're not all Picasso, I know, but if you have little ones, almost anything they make looks great in an Ikea frame. Seriously. Have them create some art for their aunts, uncles, grandparents. You'll be amazed at what they can produce with a little bit of direction, and if you want to make sure it's frame-worthy, Pinterest has about a gazillion tutorials that are easy to follow. This is even a great gift option for friends – why not frame a beautiful vintage hanky, or a quirky illustration from a vintage magazine? Write out a favorite inspirational quote in your own handwriting and frame it.
5. Community Care Date
Here's a crazy idea; why not celebrate the holidays by volunteering somewhere together as a family? You can book some time at a shelter, food sorting facility, soup kitchen, or other community outreach center and then celebrate your immeasurable blessings with an epic meal at an all-day breakfast diner. Now, there's a great new tradition in the making.
6. Food Gifts
Those mason jar gifts are pretty much the best thing ever. You can pile up the ingredients for your favorite soup, cookie, cake, or bread recipe (I'm sure there are more possibilities here) and then either hand-write or print a little tag with your recipe and bam! You have a gift. You can also prepare said treats and package them in a festive way. Homemade food gifts are so damned lovely. Another beautiful and meaningful food gift is creating a collection of treasured family recipes.
7. The Gift of Words
Write a letter, detailing all of the ways you have felt grateful for the recipient throughout the year. Write a poem and frame it. Write a story, or have the kids write a story together. Have each of your children write a letter for their grandparents. We so rarely get to see actual writing on paper, and hand-written notes and letters are priceless.
8. Coupons
I'm talking the DIY kind, where you make a little booklet of coupons to redeem. You can use these for friends, kids, lovers, family. I love these, and I've tried to always use them when I get them. If you decide to create coupons of your own, feel free to use my FREE printable templates, complete with coloring doodles courtesy of the brilliant Charlene LeBlanc. Just click on each image below to download the high res PDF, which is standard business card size.
9. Game/Craft Night
Set up your favorite board games or some fun and simple crafts (candle-making, natural beauty products for him and her, scrapbook pages) and invite your nearest and dearest to join in. Include fun cocktails or mocktails and simple little nibbles and snacks.
10. Share Your Skills
Can you whip up a WordPress blog in your sleep? Why not set up a blog for your aunt who has always been a wordsmith and gift her with an afternoon tutorial and on-going tech support? Avid knitter? Teach your grand kids the basic skills. Are you an amazing photographer? Give your sister and her family a portrait session. Are you a Yogi? Give your aging parents an at-home lesson in basic poses they can begin their day with, or create a You Tube video just for them. Do you get giddy about sorting and purging? Help your grandmother organize her attic. I think you get the idea, right? We sometimes take for granted the ways in which our own special talents can really help our loved ones.
With a little bit of imagination and intention, creating memorable and free holiday gifts is easier than you think. What are some of the ways you've gifted your loved ones with low-stress, non-commercial gifts for the holidays or other special occasions?

Comments
comments