Those of you who've been here before know that I spend a lot of time talking about how important it is to follow you passions. What kind of a hypocrite would I be if I wasn't following my own advice? I've wanted to create books since I was nine years old, and today is the very first day I can check that off the list because today the e-book is live. I published a book, it's awesome, and I want you to read it right now. Here's how you can help me, and help yourself at the same time.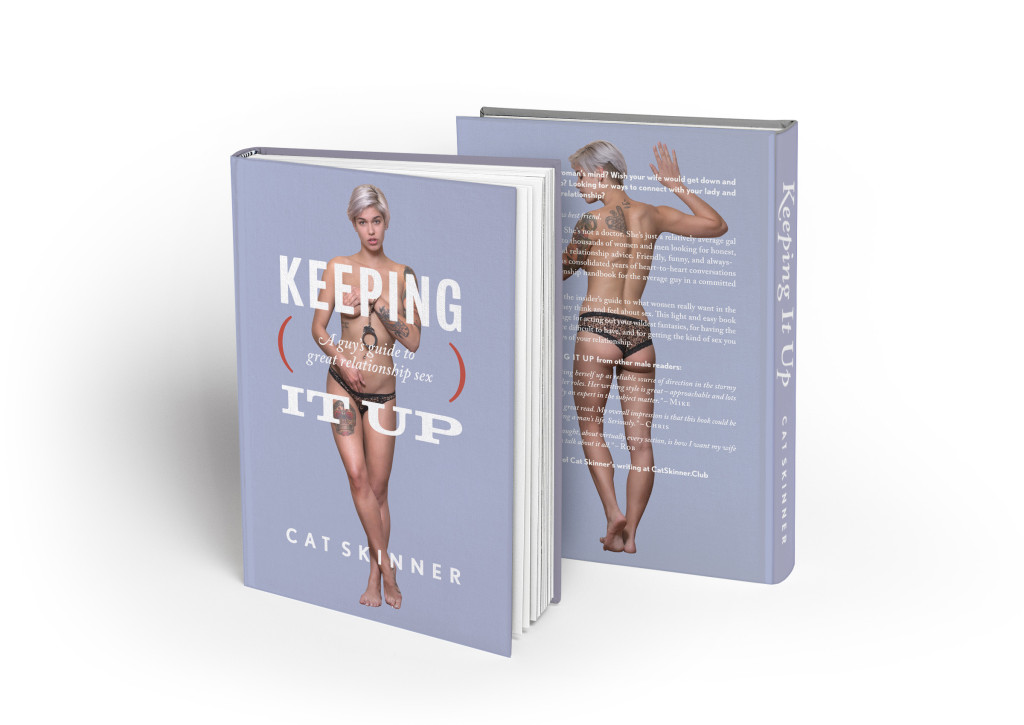 What's The Book All About?
You regulars will also know that I like to share positive, fun, sex education from time to time. I like sex, and I like talking about sex in a way that is educational, and I hope, helpful. I noticed a real gap in the market for male readers when it comes to healthy and approachable sex advice, particularly for male readers in relationships. This seemed like a super fun place to start writing. I've given out a lot of advice to both guys and gals in relationships, so I thought I could pack some of the gems I've gathered into an easy and informative book for guys, from an average (ahem) woman's perspective. The book is called Keeping It Up: A Guy's Guide to Great Relationship Sex. It's for hetero dudes, because that's who I'm most knowledgeable about. For the record, I love everyone.
Where Can I Get the Book?
It's so sweet of you to ask! Right now the e-book is available on Kindle. You can find it at this link. Soon, there will also be a physical book available to order too via Amazon. I just have to approve the finished product, which I'm hoping to do early this week. You can check back here for updates.
Canadian readers go here
UK readers go here.
OTHER INTERNATIONAL OPTIONS (Please note this book is in English):
Amazon.de
Amazon.fr
Amazon.es
Amazon.it
Amazon.nl
Amazon.jp
Amazon.com.br
Amazon.mx
Amazon.com.au
Amazon.in
I Want to Help Support Your Writing!
You guys are so very awesome, and I so appreciate your help and encouragement. THE VERY BEST WAY YOU CAN HELP IS TO READ THE BOOK AND POST AN HONEST REVIEW ON AMAZON AND GOODREADS. Word of mouth is everything to a self-published newbie like me. I believe in my book, but people need to see that others are excited about it too. Your review means the world, and those few extra minutes to choose some stars and bang out a quick paragraph about what you like really make a difference. Also, I need you to be honest. Your feedback, even the stuff that isn't glowing, makes me a better writer and a smarter entrepreneur.
I'm Shy About Buying a Sex Book/Afraid my Boyfriend/Husband/Partner Will Be Offended
E-Books make discreet reading easier than ever. If you're not sharing a Kindle account with anyone else, only you will see the books you download and add to your library. Also, the physical copy of this book has a blank spine, so it will blend into your bookshelf discreetly. Also, you deserve to have an awesome and sexy relationship, right?
If you're worried about gifting this to your partner, just tell them you're supporting your friends who is a writer, and that you thought it would be a fun read for both of you. Trust me, it will be. If you'd like to tell your man that I pressured you to buy it and you felt bad about saying no, you can go ahead and do that too. I'll happily be the fall guy, and once he reads it, you'll thank me for being a pain in the ass.
This Book Is Not for Me, But I'd Still Like To Support Your Other Writing
Wow, how awesome that you're so honest and transparent. I really appreciate that! I've got lots of other projects in the works, including some great stuff around finding more passion and creativity and building it into your life. If Keeping It Up isn't your bag, or doesn't apply to you or anyone in your life, please consider my Patreon Page. This is an awesome way to sponsor my blog posts, my books, and all of the other upcoming awesome that I'm creating for you, for as low as $1 per month. With more and more patrons, I can not only create more awesome content for you, my wonderful readers, I can also keep my blog ad free. Wouldn't that be wonderful?
Thank you all for your incredible support and for helping me along my own passionate journey!
xo

Comments
comments