Ahhh…Spring is in the air, can you feel it? I can't wait to celebrate the Equinox and open my heart and my soul to the new possibilities and the fresh start that Spring has to offer. I'm more than ready for warmer days, gentle rains, and the arrival of buds and blossoms everywhere I turn. In honor of the Vernal Equinox, here are five simple rituals to celebrate Spring.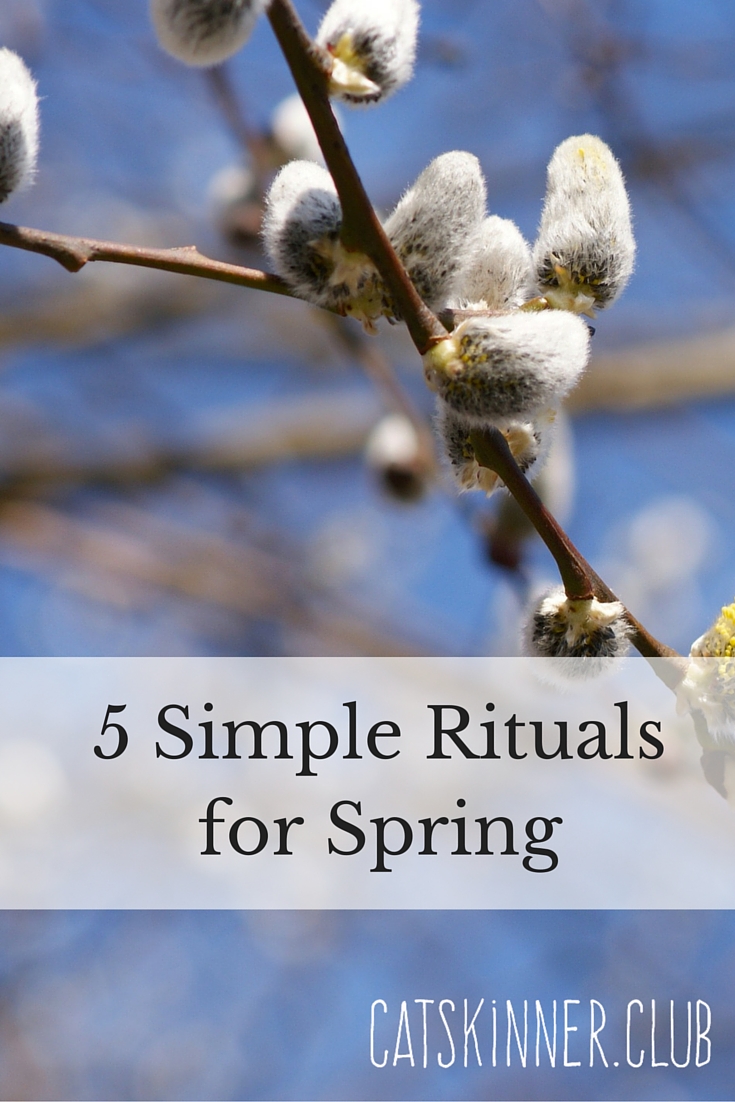 1. Nature Walk – Choose a day when you feel inspired to head outdoors and go for an easy walk in a natural setting close to home. Experience your walk with all of your senses; notice how the damp earth smells, listen to the sounds of the songbirds, look around for signs of sprouting flowers and budding trees, feel how the warming air feels on your skin. Try to keep your eyes open for a treasure to bring home to display on an altar, your mantle, or your nature corner.
2. Purifying Cleanse – Set aside uninterrupted time to enjoy a ritual bath or shower. These bathing experiences are different than the everyday kind of wash because you are focused on your emotions, and how you would like to feel on the inside more than you are on getting clean and shiny. Make sure your bathroom feels comfortable and that you can create the kind of ambiance that helps you to relax. Do you like music? Candles? Incense? Enjoy a long soak and incorporate essential oils in the tub or add a few drops to the corner of your shower and let it mingle with the steam (careful it doesn't become slippery!). You can use the beautiful infographic below to select some oils that best suit your emotional needs. Let the water soak or rinse away any emotions or experiences you would like to shed.
3. Mindful Moments – Try a guided meditation on the theme of renewal. Make time and space to relax and let yourself go on an inner journey. Here are some awesome meditations that I think you'll enjoy.
Guided Meditation for Renewal, Raised Vibration and Healing (approx 20 mins)
Spring Renewal Music for Meditation (an hour of unguided music, great for yoga!)
4. Clean Up – Many of you will understand exactly why I find cleaning, purging, and tidying up totally rejuvenating. I'm one of those people who puts housekeeping and general tidying really low on the priority list until I simply cannot handle the mess anymore. Then I usually lose my bananas and go on a frenzy. This is always during PMS week, so I'm eager to learn which hormone is responsible for compulsive cleaning. Tending to the home can be so much more than swearing under your breath as you clean up after the kids. It can be an outward purification of the space you dwell in. A renewal of the energy that you live in every day. You can listen to a great podcast while you fill the air with the sweet scent of your favorite natural cleaning products. You can do a ceremonial sweep of your home, your porch, your front walk. You can even try smudging out the stale, dark energies of Winter to make room for the freshness of Spring. This is a fantastic time to get the car cleaned, both inside and out. All of this is making me want to get up and clean something. I think I'll throw a few drops of lemon oil in the diffuser so the whole house smells fresh and fantastic.
5. Spring Everything – I like to decorate for all the seasons, and some might argue that my taste in decorations borders on tacky. I use the kids as an excuse to do things like fill the house with soft pastel eggs, crepe paper bunny banners, an abundance of twinkle lights, and all manner of seasonal decor. (A recent question, posed by my three-year-old was "What da heck is an Easter Tree??") I like to change our nature table to reflect the seasons too, so the kids have a little touchstone for what is happening to the earth as we move through the year. The arrival of Spring is a perfect excuse to treat yourself to a bright bouquet of your favorite Spring flowers, or a bunch of sweet pussy willows. It's also a great time to pack away the bulk of your Winter wardrobe and bring out a few Spring transition pieces that will make you feel lighter and brighter. Shifting your color palette for makeup, hair color, and manicures and pedicures can also be pretty darned refreshing.
If you do nothing else to celebrate Spring today (because it's Sunday, and sometimes we just need a do-nothing kind of day!), steal a few sweet moments outside to take in the changing air and reflect on all the ways in which renewal and new beginnings are always possible. Nature is a mirror to our inner lives, always changing, rejuvenating, creating new wonder. The light always returns, the darkness is never permanent. I take such create hope from the changing seasons.
What are some of your favorite ways to celebrate Spring?


Comments
comments